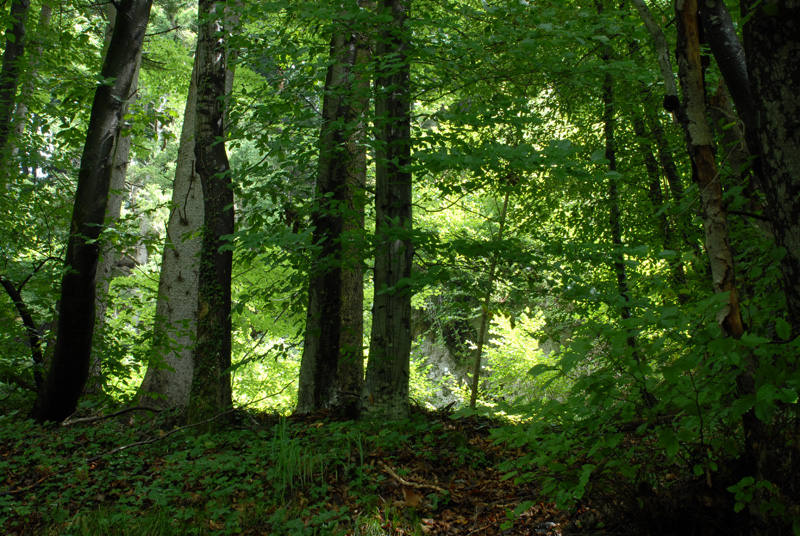 The European beech can grow as tall as 30 m and live for ca. 150 (to 300) years. Its range extends to ca. 1500 m above sea level. The tree requires moist but not waterlogged soils.
The beech has smooth, grey bark. Its leaves are oval and pointed, the leaf margin is crenate and not serrate. The leaves are a shiny dark green on the upperside and light green on the underside. The beechnuts, the fruits of the beech, are three-sided.
Blooming period: April to May Fruit maturity: September, October
The beech is the main species of the habitat: Medio-European orchid limestone beech forest (Cephalanthero-Fagion) - FFH habitat type 9150
The habitat type comprises beech and spruce-fir-beech forests in the sub-montane and lower montane zone. They grow mostly on steep slopes with a southern exposure on stable alkaline-rich fluvial and shallow soils. The relatively open canopy of the tree layer allows the well-structured shrub and herbaceous layer to develop. For a beech forest, the microclimate is relatively dry and well-lighted. As a result we find numerous herbaceous plants that are also able to withstand dry air and dry soil temporarily. The forests have sub-Mediterranean, thermophilic features. The term dry-slope limestone beech forest is also used to describe them.
The following typical plants are found in the Tauglgries beech forest:



Trees:
Maple - Acer pseudoplatanus
European beech - Fagus sylvatica
Ash - Fraxinus excelsior
Spruce - Picea abies
Larch - Larix decidua
Grasses and herbaceous plants:
Wood anemone - Anemone nemorosa
Odorous pig salad - Aposeris foetida
Alpine honeysuckle - Lonicera alpigena
Wood spurge - Euphorbia amygdaloides
Dog's mercury - Mercurialis perennis
White sedge - Carex alba
Birdsfoot sedge - Carex ornithopoda
European woodland sedge - Carex sylvatica
Shrubs:
Hazel - Corylus avellana
Common dogwood - Cornus sanguinea